Carey Olsen has one of the largest investment fund practices in the offshore world – advising clients on the laws of Bermuda, the British Virgin Islands, the Cayman Islands, Guernsey and Jersey.
Our funds team comprises 22 partners and a total complement of 80 lawyers, many of whom trained and worked at leading international law firms before joining Carey Olsen.
We advise on all types of private, public, retail and listed funds, including open and closed-ended funds, limited partnerships, unit trusts and companies.
We have substantial experience in advising on the full spectrum of fund strategies and asset classes, including credit and debt funds, cleantech funds, real estate funds, private equity funds, venture capital funds, hedge funds, green funds, crypto funds and infrastructure funds.
Our clients include fund managers, investment banks and private banks, institutional investors, boutique investment firms, insurance groups, pension funds, private equity houses, sovereign wealth funds and family offices. Our lawyers understand the requirements and priorities of each interest group and we tailor our services accordingly.
We also have longstanding relationships with all of the leading international law firms who instruct us on a regular basis.
Recognised as the leading legal adviser to funds across the Channel Islands and with strong fund practices in the Caribbean and Asia, we represent more companies and funds listed on the London Stock Exchange than any other offshore law firm and regularly advise on listings on the NYSE and HKEx, Euronext, CSX and TISE.
Our credentials
9/10
We advise 9/10 of the world's largest private equity firms
10/10
We advise 10/10 of the world's largest banks.
8/10
We advise 8/10 of the world's largest private equity real estate firms
cUS$100bn
We advised on the world's largest ever investment fund – the SoftBank Vision Fund
Recent video briefings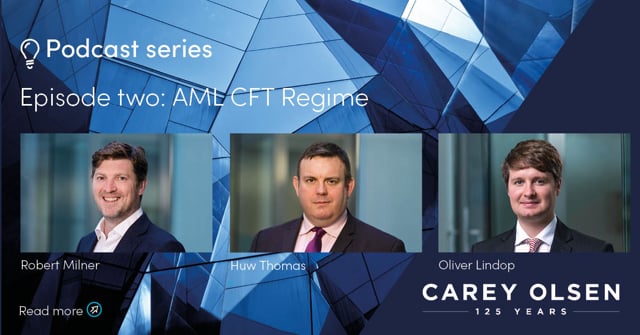 Carey Olsen People behaviour and governance podcast series: episode two
The Carey Olsen People, Behaviour and Governance podcast series is a series of podcasts lead by partner Huw Thomas. We speak to subject matter experts from across the firm and other companies to discuss topics relating to people, behaviour and governance in an offshore context.
The second episode the series looks at governance – in particular something which is currently dominating the financial services governance scene in Jersey – the changes to Jersey's AML regime which are in the process of being made to take account of Jersey's Moneyval evaluation,
In this epiosde, Huw is joined by Carey Olsen market leading experts, partner Robert Milner and counsel Oliver Lindop. With these changes being the most significant in the Jersey AML landscape since the inception of the AML regime in 1999, Huw, Robert and Oliver will cover the key issues and changes, what they mean in practice and what actions financial services organisations and non executive directors should be taking.
Play